New WordPress Plugin!
Put Your Message Directly Into Untapped WordPress Emails That Users Are Almost Certain To Read!
Our Brand New Plugin Generates INSTANT Messages, Links, Call To Actions And Promotions In EVERY Email Sent By WordPress!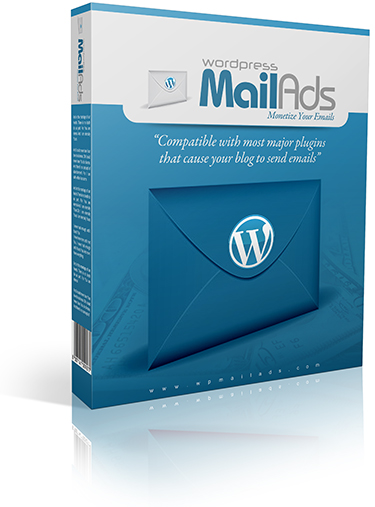 No Other WordPress Plugin Does What WP Mail Ads Does!
Most people are familiar with WordPress and the different emails sent out by the system – you get an email for a new account, for a lost password, for comments etc… not to mention all the other plugins that tie in with the WordPress email system. Think of all these emails going out to your customers and all they are getting is a boring WordPress system message.
They get it, look at it quickly and then go off and do their thing. The power here is, people almost ALWAYS read WordPress system emails because they usually contain important information. For example, if someone signs up for your site, they are going to want to read their username and password email, right?.
WP Mail Ads Lets More Of Your Users And Customers See Your Message!
With WP Mail Ads you can now add whatever message you want to the end of every message sent by your WordPress site. Just take a second and think of the opportunities here. You can use it to add links to related offers, add support messages, get people like your FB profile, sell advertising space….and loads more, all from the built in WordPress email system where people are automatically drawn to opening the emails.
Consider this… You have a website where people have user accounts. They often email you asking you how to do a, b or c. How easy would your life be if you could put a message in the first email they get from your system saying "For FAQ's go here" or "Log a support ticket here". This would easily reduce your support overhead and give you more time to concentrate on your projects..
How about if you have launched a new member site? You probably have a matching Facebook Fan Page. With WP Mail Ads you can put a message saying "Like our Fan Page to get a 10% discount coupon" …endless possibilities for cross promotion.
Now consider if you have made a website for a client. Add your own branded message to all the emails or even sell the WP Mail Ads setup as a service to your offline client. This is just the tip of the iceberg. There are all sorts of clever uses for WP Mail Ads.